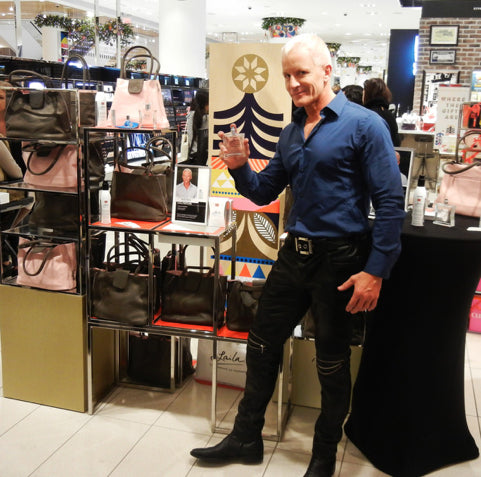 by Helen Siwak  |   Blush Vancouver (www.blushvancouver.com)  |   December 8, 2015
Before meeting world famous perfumier Geir Ness, I had heard an industry anecdote of how a young Geir was able to bamboozle Nordstrom's with the aid of some dime store props, an empty camera and some acting students. This week I was privileged to be able to hear the story directly from Geir Ness himself.  
When I sat down with Geir in his downtown Vancouver hotel, he relayed the story of how he arrived in the USA with $1,000 in his pocket and the dream of being a famous actor.  When quick fame did not materialize, Geir turned his creative energy into crafting a fresh light scented perfume inspired by freshness of Norway's outdoors, which he named Laila after his mother.
Geir Ness and the vegan leather Laila handbag (Photographer: Helen Siwak)
Geir and the fragrance that launched it all Laila (Photographer: Helen Siwak)
A publicity stunt at Nordstrom's followed – the success of which hinged on a $5 suit, a red carpet found in the trash, a photographer who could not afford film for his camera, and a group of his fellow students from his acting school who pretended to know him as the mega celebrity from Norway while crowding around as the perfumier arrived.  The ruse worked and ultimately landed him his first order of 1,000 bottles.  Nordstrom's believed the order would last 3 months; instead Laila sold out in one hour and had a waiting list of 50 people.  
As Norway's first fragrance and handbag designer, Geir has made his mark in the beauty and fashion industry as an entrepreneur and humanitarian. With international travel consuming over 300 days of the year, Geir still makes time to support his favourite charitable causes, such as the Norwegian Cancer Society, Chicago's Children Medical Research Foundation, Susan G. Komen Foundation and recently, he joined the I am 4 Kids Foundation. When in Los Angeles, he always makes time to volunteering at local animal shelters.
Geir and rescue dog Snickers at Nordstrom launch (Photographer: Helen Siwak)
Growing up in Norway, the Ness family shared a two storey fourplex and there was not room for animals. He befriended the dogs of the neighbourhood and took up horseback riding to spend time lavishing love and attention on them. To him, one of the big drawbacks to a life of so much travel, is his inability to surround himself with a menagerie of wagging tails.
Each cruelty-free handbag comes with Geir's massage lotion inside (Photographer: Helen Siwak)
Nordstrom Vancouver is the first store in Canada to carry the latest purse sets (purse plus selected product) in Geir's collection. This season's bag is perfect for Vancouver – it is reversible and water resistant – as it is vegan leather. The mid-sized bag can be used with the soft pink or grey mock croc side out making it a perfect addition to this season's black, greys and rich neutrals. 
Geir Ness, Snickers & I
Always inviting to fans (Photographer: Helen Siwak)
Always on the move, the one-man Laila brand machine Geir Ness, was back in the air a few hours after the Nordstrom Trend Week in-storewas completed. From YVR, Geir hops down to Seattle, Los Angeles, across the US to Florida, where his Laila fragrance is consistently the top seller at Disney's EPCOT Center.
"An excellent entrepreneur never forgets the hard days and realizes to be thankful to the people who helped to become who you are today." Geir Ness